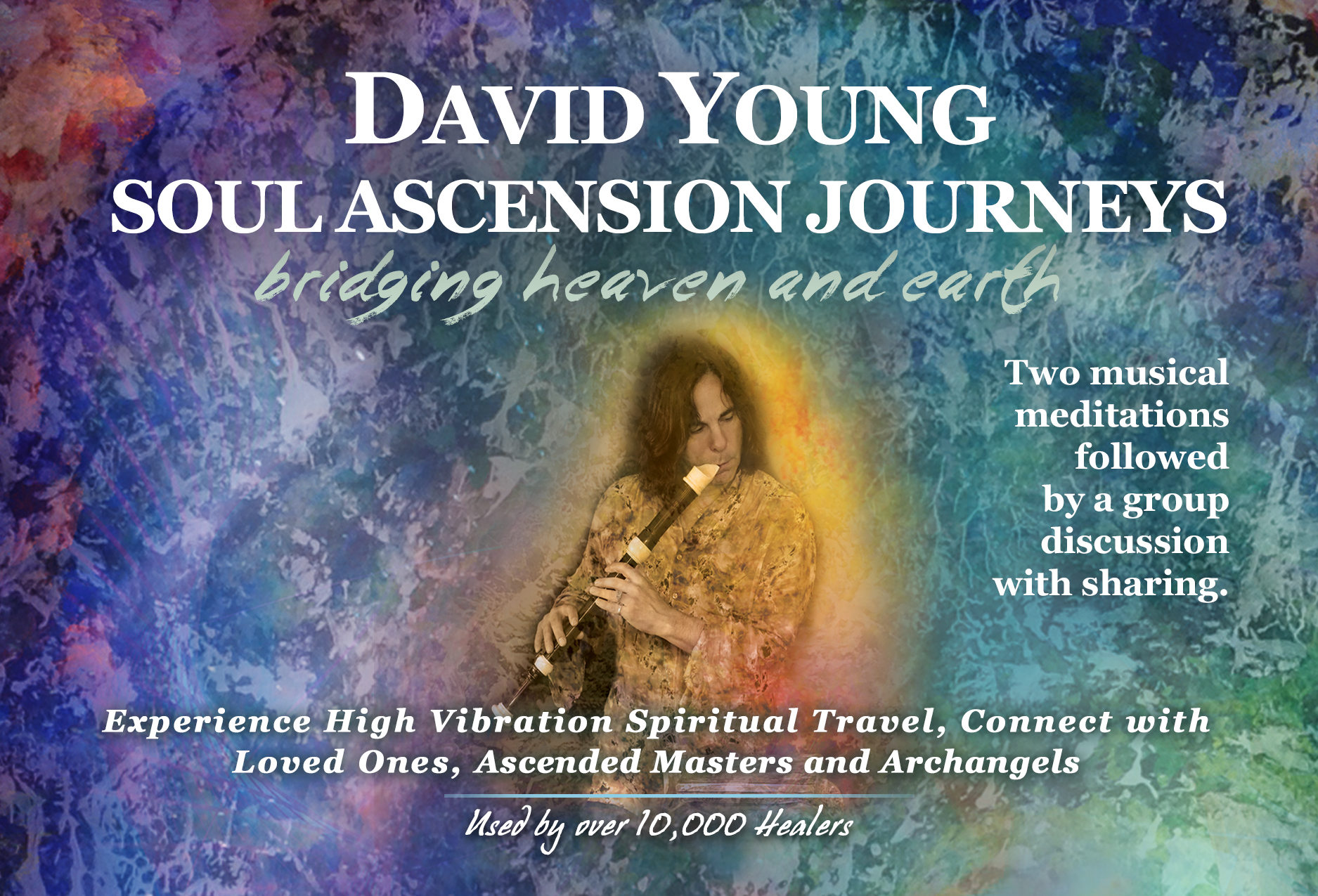 David Young's SOUL ASCENSION  JOURNEY
Date: Sunday January 10, 2016
Time: 7:00 pm
Location: Celestial Events  Trenton/Bordentown NJ  SEE BELOW
Venue Website: www.lucindaweller.com
David Young's Website: www.davidyoungmusic.com
Facebook Fan Page:  https://www.facebook.com/DavidYoungmusic2015/
Cost:  $25 advance, $30 at the door
EVERYONE WILL HAVE AN EXPERIENCE– either with an Ascended Master, an Arch Angel, a past life experience, an out of body experience in the inner light, with one of their loved ones already in Heaven, or something else.
BIO:

David Young is a twice Grammy Nominated musician who plays two renaissance flutes at one time in harmony. He has recorded 57 albums and sold over 1,000,000 copies. He is a healer,channel, writer of three books, artist and it is said that more people have had out of body experiences while listening to his music than other musician alive today.
Link to Bliss Video: https://www.youtube.com/watch?v=YL1fdK5qDLE
AFFILIATE PROGRAM
To find out more about the launch of his LIVE GLOBAL LIVESTREAM SOUL ASCENSION Meditation Journeys with one-time or Monthly Memberships and the Affiliate Program contact the person who you received this from.
For FREE SAMPLES of live meditations and those archived  go to:
http://livestream.com/accounts/16481357/events/4601785
Documentary Film:
A film company is doing a documentary (similar to The Secret) on what is happening at David Young's events
TESTIMONIALS:
David has done 132 Soul Ascension workshops; to date 855 people have shared their experiences with the Ascended Teachers and 1,257 people have shared with reconnecting with their loved ones on the heavenly side this year, traveling to three or four cities each week. 
Whether people have been meditating a short time or for thirty years, attendees consistently say they've had the most profound, spiritual experience of their entire life, including Marie Diamond, Fung Shui Master and speaker in the movie, "The Secret" and Barbara Hardie, writer of the book, "Creating Heaven on Earth", a well respected medium and angel channel from MA.
At a recent event, a woman was visited by Martin Luther King who said he had some work for her in a couple of days. She shared this in front of 40 people who heard this at the event. 3 days later on Monday morning, her boss called her in to say he was putting her in charge of the Martin Luther King fund!
Although each experience is unique, many share that these great teachers have told them we are all One and we are equal and there is no need for the pedestals that mankind has put them on.
Three people at one event saw Jesus standing in the exact same place in the room and he gave each of them the same inner symbols.
Two women sitting next to each other at one event both described experiencing Quan Yin standing between them.
On separate evenings two people had the exact same experience with Buddha who brought them to this gigantic tree (The Tree of Life) that was so tremendous it was beyond their description of words.
At every one of these events at least ten people have shared reconnecting with their loved ones in Spirit.
A shy, introverted woman came to an event and shared that her entire family in Heaven lined up to greet her, over 20 souls.
Violetta, who has cancer has been visited six times by Jesus, George Harrison and John Lennon at events as they are helping her to heal. After living with 10 out of 10 horrible pain from her treatments the week before the last event she was pain free for 48 hours afterwards.
A woman with a son with Down Syndrome had a Soul to Soul experience where he was syndrome free on the inner and he explained why he had that disease in his current life.
David was given nine words to give to a woman, "I am Strong, I am Protected, I am Confident." Afterwards she shared that Arch Angel Michael had come to her the previous week and gave her the same nine words and told her to write them down.
For More Information visit him online at www.DavidYoungMusic.com
Celestial Events are Located at:
574 Route 206 Trenton, NJ 08610
 Corner of Route 206 South & Philmont Ave. 
Half mile south from White Horse Circle; 
It IS Bordentown but we have a Trenton mailing address.
Kindly arrive at the
SIDE DOOR  on Philmont Ave.
For GPS: 
It may be helpful to use: 
139 Philmont Ave. Trenton, NJ 08610 (back neighbor)

NOW you may purchase tickets HERE
Questions
Contact Lucinda Weller  609-298-7673
Lucinda@LucindaWeller.com